Mailing Address:
School of Pharmacy
University of Wisconsin
777 Highland Ave.
Madison, WI 53705


Office:
2506 Rennebohm Hall

Email: mtidd@wisc.edu




---



---
Advisor:
Member of Faculty Lab:
Lucas Richert
Olayinka Shiyanbola
Amanda Margolis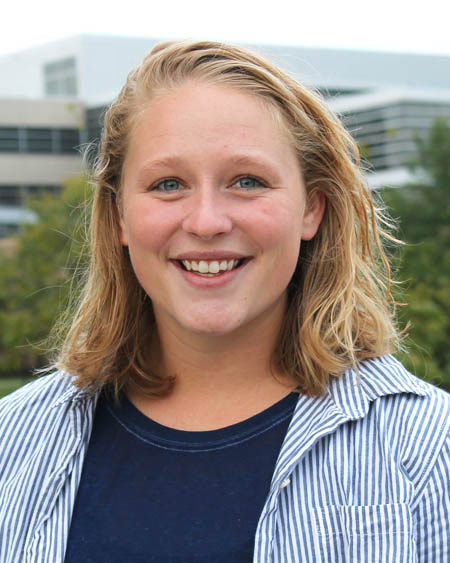 Maeleigh Tidd, MS
Third Year Graduate Student

---
Maeleigh's research interests focus on LGBTQ+ health and health communication in pharmacy spaces and wider medical spheres. She studies the promotion of health information (between physician and patient, health education, and public health campaigns), health activism, and community/stakeholder engagement.
More specifically, Maeleigh is working to understand HIV-prevention's pre-exposure prophylaxis (PrEP) uptake, or the lack thereof, in the state of Wisconsin by identifying barriers that are obstructing health services along the cascade of the PrEP Continuum of Care. She is currently working towards educating and then integrating pharmacists into the provisions of PrEP care and interventions.
Maeleigh communicates interdisciplinary health research in a variety of formats, including print and online. She is currently in the third year of graduate studies and her larger aim is to effect changes in health system disparity and inequity.
Urdang Lab:
Editorial Research Assistant for the American Institute of the History of Pharmacy (AIHP)
Editorial Research Assistant for the Social History of Alcohol and Drugs (SHAD)
Shiyanbola Lab:
Student researcher on various projects
Amanda Margolis Lab / PPD:
Research Assistant
Points: The Blog of the Alcohol & Drugs History Society
Guest writer
Maeleigh received her Bachelor of Science in Biology-Chemistry and minored in Health Communication at Manchester University in northern Indiana.
Currently, Maeleigh works in the Urdang Lab in HSRP/AIHP, where she's a key contributor of the editorial team of two academic journals and the AIHP website and social media outlets. She also assist Dr. Richert with intake, evaluation, and preparation for manuscripts, journal articles, and conference presentations.
Additionally, Maeleigh is working with Amanda Margolis in the Pharmacy Practice Division, where she is assisting with evaluating and improving the universities individual teamwork observation and feedback tool (iTOFT) that is utilized by the pharmacy preceptors for students on the advance pharmacy practice experiences. Her responsibilities include data analysis, manuscript writing, and presenting at appropriate conferences. Additionally, she is a part of the team that is revising the iTOFT and developing the training materials for the preceptors on the new iTOFT.
Maeleigh also volunteers her time in the Shiyanbola Lab, where she is assisting with all aspects of a project focused on pharmacy patient awareness and utilization of pharmacy services.
Summer of 2019, she worked in the Abraham Lab in HSRP, where she was a team researcher on various projects: cystic fibrosis in regard to defining a pharmacists role in self medication management; game-based learning in regard to opioid safety education cancer/cancer prevention education among youth. Working alongside Dr. Abraham, Maeleigh gained experience in all aspects of research from writing successful grants, data instrumentation development, IRB approval, data collection, data analysis, and manuscript writing (waiting publication).
She's pursuing her MS/PhD in Health Services Research in Pharmacy with a concentration in Health Communication. As a research assistant, Maeleigh is a part of the HSRP and American Institute of the History of Pharmacy (AIHP).
Maeleigh has contributed to the teaching staff at the School of Pharmacy acting as a teaching assistant in the following courses:
Pharmacists Communication: Educational and Behavioral Interventions (Current, Spring 2022)
Pharmacy in Health Care Systems (Fall 2021)
Social and Behavioral Aspects of Pharmacy Practice (Spring 2021)
Highlighted Publications:
Tidd M, Roa D. The pandemic is exacerbating, other co-occurring epidemic(s). Points. August 27, 2019.
Abraham, O, Tidd, M, Buechel, M, Thakur, T, Brown, R. Student pharmacists assessment of a serious game on opioid medication safety. Innov Pharm. Accepted August 26, 2020.
Tidd M. Cycles and Go Arounds: A brief history of Medicare prescription drug coverage. American Institute of the History of Pharmacy. July 2, 2020.
Tidd M. (2020). [Review of the book Patient Zero and the Making of the AIDS Epidemic, by Richard A. Mckay]. Pharmacy in History, 62(1&2): 73-75.
Richert L. Tidd M. Pre-Meeting or Exam: Take Stress Out of the Equation. Psychology Today. September 23, 2019.
Maeleigh acts as an LGBTQ+ Peer Mentor in the Peer Mentor Program here on campus